750,000 Accessible Restaurant Menus
On your iPhone® in the palm of your hand.
Yes, that's not a typo. The Menus4ALL iPhone app offers 750,000 accessible menus across United States and Canada.
Wherever you are and whenever you want The Menus4ALL iPhone app is the largest network of restaurant menus in one place and all of the menus are fully accessible.
Perfect for when you are out running errands and want to know what restaurants are near your current location. Great for planning a night out with friends. Favorite menus that you want to look at later or when you know you are going back for that amazing dish.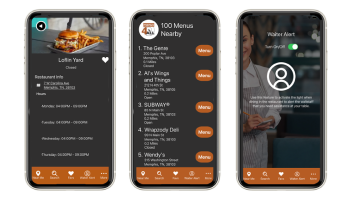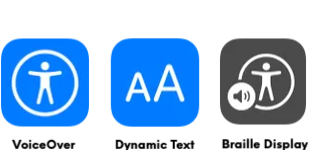 A Revolution in Resolution
Menus for Everyone
No matter when, where or who, the Menus4ALL iPhone app gives you the info you need quickly.
No more multiple Google searches to research menus before going out.
Info is organized to give you quick access to what you are looking for - the menu!
Optimized to give you the best viewing experience.
No more struggling to see small print, or looking at a menu in a dimly lit restaurant.
Do you use magnification, large print, VoiceOver, a braille display or Voice Control?
Enjoy 750,000 fully accessible menus.
Where can I find a menu?
Sample of U. S. cities in the app.
Atlanta, Georgia - 3,900 Accessible Menus
Austin, Texas - 4,440 Accessible Menus
Baltimore, Maryland - 2,280 Accessible Menus
Boston, Mass - 2,260 Accessible Menus
Chapel Hill, North Carolina - 200 Accessible Menus
Charlotte, South Carolina - 2,340 Accessible Menus
Chicago, Illinois - 9,840 Accessible Menus
Dallas, Texas - 4,420 Accessible Menus
Denver, Colorado - 2,420 Accessible Menus
Durham, North Carolina - 720 Accessible Menus
Gainesville, Florida - 980 Accessible Menus
Houston, Texas - 9,520 Accessible Menus
Jacksonville, Florida - 2,800 Accessible Menus
Las Vegas, Nevada - 6,240 Accessible Menus
Los Angelos, California - 10,080 Accessible Menus
Louisville, Kentucky - 1,760 Accessible Menus
Little Rock, Arkansas - 600 Accessible Menus
Memphis, Tennessee - 1,460 Accessible Menus
Miami, Florida - 5,900 Accessible Menus
Minneapolis, Minnesota - 1,640 Accessible Menus
New Orleans, Louisiana - 1,060 Accessible Menus
New York City, New York - 17,460 Accessible Menus
Olive Branch, Mississippi - 100 Accessible Menus
Orlando, Florida - 3,660 Accessible Menus
Philadelphia, Pennsylvania - 5,520 Accessible Menus
Phoenix, Arizona - 3,780 Accessible Menus
Portland, Oregon - 4,040 Accessible Menus
San Diego, California - 4,100 Accessible Menus
San Francisco, California - 4,260 Accessible Menus
Seattle, Washington - 2,740 Accessible Menus
St. Louis, Missouri - 1,020 Accessible Menus
Tampa, Florida - 2,780 Accessible Menus
Washington, DC - 3,220 Accessible Menus
Wichita, Kansas - 920 Accessible Menus
Sample of Canadian cities in the app.
Calgary, Alberta - 920 Accessible Menus
Edmonton,Alberta - 2,780 Accessible Menus
Halifax, Nova Scotia - 420 Accessible Menus
Montreal, Quebec - 400 Accessible Menus
Ottawa,Ontario - 1,900 Accessible Menus
Toronto, Ontario - 6,260 Accessible Menus
Vancouver, British Columbia - 2,800 Accessible Menus
Winnipeg, Manitoba - 1,580 Accessible Menus
Who's in the App?
From fast food to fine dining. Find national and local resturants all in one place.

Starbucks

Morton's Steakhouse

Chick-a-fil

Applebees

Cracker Barrel
Download Now
Try the app for 14 days for free. When the app first opens you can pick either a monthly subscription for $2.99 USD or pay $29.99 USD annually to get 2 months free.
Anyone in your Apple Family Share program can use it too. Cancel any time.

Sharing the accessible menu journey
"I've just subscribed. While I know we can usually go to a restaurant's website to read a menu, it's hit and miss as to whether that site is accessible. To me, this app is worth the 3-dollar monthly subscription, just for convenience." - Gregory, Memphis, TN
"Wow, this can be very useful, especially for travelers. I will hand it to them the way they have this tagged up it very easy to us and navigate."

-Jeff Thompson, Blind Ablities Podcast
"VoiceOver reads all page elements.All buttons are clearly labeled.The app is fully accessible with VoiceOver and is easy to navigate and use."

-Tristan Bowen, AppleVis
"I'm having a ball using this app. It's totally awesome.

-George, Seattle
"I think I'm in love with this app."

-Caia, Memphis
"Using Menus4ALL allows me to independently read menus and choose on my own what I am interested in ordering."

- Kendall Gibbs, Vision Rehab Professional
VoiceOver Tutorials
Get pro VoiceOver iPhone tips from our in house assistive technology instructor and Marketing Director, Stephnaie Jones.
Frequently Ask Questions
How does the Menus4ALL app use my location?

In the 'Near Me' tab, your location is used to find accessible menus within 20 miles quickly. You can always change your location preferences in the Privacy Settings on your device.

How can I search for an accessible menu?

You can search for accessible menus three ways. Select the 'Search" tab. To search, first select one of the three search types: Restaurant Name, Menu Item, or City. Type your search terms in the text field and select search.

How are the search results for each of the three search methods determined?

When you search by Restaurant Name, the search results will list up to 100 results based on your current location. When searching by Menu Item, the search results will display up to 100 restaurant menus based on your current location. When searching by City, the search results will display up to 100 restaurant menus from the City center.

Why do accessible menus display only for some of the restaurants in my area and not all restaurants?

Menus4ALL, Inc. purchases restaurant menu data from a major provider of restaurant info in the United States and Canada. We then convert the data to provide you an accessible menu. Currently, we can only provide accessible menus for restaurants in this database. Menus4ALL is constantly looking for new ways to bring you even more accessible menus in more locations.

Why are the accessible menus displayed in the Menus4ALL app different from the accessible menus I used to find on this website?

In June 2022, Menus4ALL Inc. stopped using our previous provider of restaurant info and stopped providing accessible menus on this website. For years, users of Menus4ALL.com asked for a mobile app. Menus4ALL is very excited to find a new restaurant info provider that now allows us to provide 500,000 accessible menus throughout the United States and 250,000 accessible menus in Canada.

If I am unable to see the flashlight, how do I know for certain that I have turned on the waiter alert?

When you toggle the waiter, alert on, if using voiceover, you will hear audible confirmation that the alert has been turned on and the phone will vibrate. You will receive the same audible confirmation and haptic feedback when you toggle the alert off.

If I am in a restaurant, how does the weight staff know why I have used the flashlight on my phone to get their attention?

Menus4ALL Inc. built the waiter alert function to help users get the attention of the wait staff when needed. We suggested you take a few minutes when you first get to your table to let the waitstaff know about the function, and that you may hold up your phone, with the waiter alert light on, to get their attention at the table.

Why do I pay a monthly or annual subscription fee to access the Menus4ALL app?

The subscription fee allows Menus4ALL Inc. to purchase quality restaurant data which is updated weekly with full menus, current items and prices. We then convert this data into accessible menus for your enjoyment. The Menus4ALL app is the world's largest network of accessible restaurant menus.